How Do I Drive CRM Adoption?
Enjoy the video on Prodoscore can help you increase CRM adoption.
CRM has become the backbone of any company. You house all your accounts, outreach, sales and customers in a single database to keep your business running smoothly. But after you introduce this time-saving (and expensive) piece of software, you discover your team is still working in spreadsheets.
What can be done to drive CRM adoption within your own organization?
What Factors Drive CRM Adoption?
One reason that CRM is being adopted at a far greater pace today is the cloud. Simply put, CRM is now easier to use, implement and manage. With cloud-based options, implementation, training and integration challenges virtually go away. According to Data2CRM, in 2008 only 12% of companies used a solution that had a cloud-based option. Today that figure stands at 87%.
This transformation has several repercussions. First, the dominance of smart phone usage – including within work environments – has driving higher levels of cloud-based usage. Smart phones work better with cloud-based programs, including ease of access to data, greater security and ease of use. We are far more mobile with our web-based activities today than we ever have been before.
What does this mean if you are an in IT or sales management?
You better either be on a cloud-based CRM system, or have plans for that migration that are sooner vs. later. Given the high adoption rates today, your competition is likely ahead of you. This has the potential to create a competitive disadvantage for you with regards to the service level you provide to your customers, and how competitive your work experiences is for your employees. Fall too far behind, and your employees will leave for the competition.
Does Mobile Adoption of CRM Improve Sales Productivity?
Are companies getting a return on investment for implementing these new CRM applications? Or, has the big growth in CRM been more a pursuit of "something shiny" versus delivering real results?
Fortunately, hard evidence now exists. Based on a study compiled by Nucleus Research, adding mobile CRM access did increase sales force productivity – by an average of 14.6%!
These findings were further validated by feedback obtained from the end users, where 3 in 10 mobile CRM users felt their productivity improvement grew by more than 20%! Productivity improvement occurred in varying amounts across a wide spectrum of performance improvement segments, as shown in Figure 2, with data compiled by the Nucleus Research study.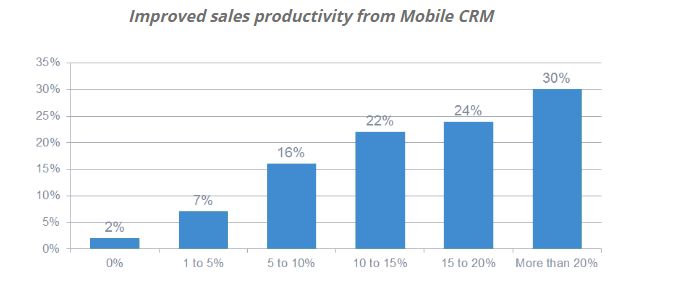 Figure 2
The Role of Digital Marketing
Last year we witnessed an important "inversion" with regards to how retail purchases are made – in 2016 more purchases were made online versus in stores. This is a remarkable transformation, yet something that likely won't surprise anyone.
This market change was reported in the Wall Street Journal, and is according to an annual survey of more than 5,000 online shoppers by United Parcel Service Inc. Further, 44% of smartphone users said they made a purchase from their device, up from 41% a year ago. So, shoppers are not only purchasing online, but they are increasingly doing so from a smart phone.
Marketers are aware of this transformation. It has completely changed how budgets are allocated, and what marketing campaigns are invested in to drive results. At the top of this list of digital marketing initiatives is email marketing.
A study by StrongView notes that 60% of companies are planning to increase the email marketing budget in 2017, followed closely by 49% planning to increase their social media budget and 40% planning to increase their mobile marketing budgets, as detailed in Figure 3, with data compiled from the StrongView report.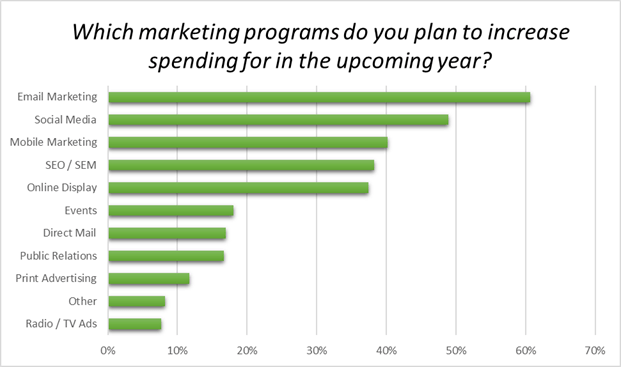 Figure 3
CRM as a Critical Component of Digital Marketing
The importance of accurate data entered into CRM systems becomes painfully clear when the opposite is true, and your email marketing campaign flops.
Excessive returned emails as undeliverable, or poor title integrity with your list will really make it hard to have any large-scale success with an email campaign. And, for those involved in Sales, the repercussion of this program failure will likely result in fewer leads, less deals closing and a greater likelihood you won't make quota. Nothing good.
Tie together accurate CRM data with a digital marketing program, and just the opposite will occur.
The right contacts will receive the right information, which will then more likely drive results and activity on the call to action of the program. Sales teams that help provide good data – and continue to perform updates and corrections when information has changed – can better control their own destiny, to help ensure the most possible leads will ultimately come back to them in an ever-increasing pipeline.
Conclusion:
So, what have we learned and how can these observations help drive greater CRM adoption? The first theme is ease-of-use. The early days of CRM were times when difficult programs existed that might require going through multiple levels of menu choices before data was to be entered. Access might have been limited to just desktop applications, as smart phones didn't even exist!
Fast forward to today, and it is easy to see that anything that can be done to streamline the process will improve the accuracy of the data in your CRM, and will also increase adoption. Modern CRM applications now have many open APIs such that data can be input and extracted from the system relatively quickly. Integration of a CRM with phone logs, calendar invites or email activity are just a few examples that now exist to help further streamline the process.
As part of the streamlining and simplification strategy, be sure your CRM has mobile options; users need to be able to do quick updates – as automated as possible – from their mobile phones.
Be sure to communicate the benefits to the sales team for accurate inputting of the data, including corrections or updates as often as needed. Armed with this knowledge, a sales team can become a big proponent of improving the accuracy of CRM intelligence, resulting in better future leads or business opportunities.
In the future, I would expect predictive analytics and artificial intelligence algorithms to be applied to CRM applications such that future customers to call upon might be identified as those with a greater propensity to spend. Think about the power of that type of scenario – which might not be too far off – as a nice "carrot" to share with your team about ensuring your CRM data base is current, accurate and completed in a diligent manner over the long term.
How will visibility impact your business?