Google Cloud's Latest Research on the Benefits of Machine Learning
Not long ago we introduced you to Google's latest finding on the adoption of machine learning. Their recent report not only provides insight into the rising rates of machine learning adoption but also the profound benefits that come with this revolution in data management.
Here's how research shows machine learning is giving businesses a competitive edge, keeping data safer, and cutting costs across the board.
Getting Ahead
Organizations implementing machine learning report "substantial business benefits" including increased efficiency and even better cybersecurity. Research supports that early adopters of machine learning are indeed reaping the benefits and rising above their competitors.
IDG Research Services surveyed senior IT leaders of various machine learning projects and discovered "real reasons" to get excited about what machine learning can do. 26% of the early adopters surveyed believe that machine learning has given their business a competitive edge. Google's research further affirmed this sentiment, finding that 89% of early adopters believe that machine learning is indeed giving them a competitive advantage.
Soon enough, those who haven't jumped on to the machine learning train will be running to catch up. Brandon Purcell, Senior Analyst at Forrester Research, contends that "one hundred percent of any company's future success depends on machine learning," because machine learning has become "absolutely essential" for anticipating customers' needs.
Strengthening Cybersecurity
Google Cloud's research found that most early adopters confirm that machine learning enhances cybersecurity. In fact, Google Cloud has "experienced this effect firsthand" by "using AI-powered methods to identify vulnerabilities and thwart attacks."
Since artificial intelligence is designed to, in the words of global product marketing lead Philippe Poutonnet, "find the nuggets of information that a human can't," it's no surprise machine learning is revolutionizing the way that we are alerted to inconsistencies or abnormalities in data sets.
Google Cloud statistics show that 86% of early adopters find their cybersecurity efforts enhanced by machine learning. IDG discovered that two-thirds of the companies surveyed are using machine learning for security, risk, and fraud analysis.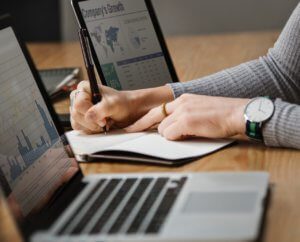 ROI Results for Early Adopters
Research also overwhelmingly testifies that adopting machine learning is helping businesses cut costs and increase ROI. 81% of those already utilizing machine learning agree that such technology can dramatically reduce costs.
Standard machine learning projects have reported an ROI between two to five times the investment. A lot of the recurrent benefits are expected to accrue after the first year, contributing to a higher ROI overall. In fact, Google's report shows that 23% of early adopters are already reporting cost reductions, and 30% are seeing improved efficiency of internal processes, undoubtedly saving money and time.
A Big Investment with Bigger Returns
Overall, the benefits of adopting machine learning demonstrate a considerable return on the investment in artificial intelligence. It's time to consider how machine learning could give you a leg up on your competition.
It's proven to increase efficiency and cybersecurity, and implemented well, will definitely help your bottom line. Don't miss out on your opportunity to reap these research-proven benefits.
How will visibility impact your business?