How Do You Improve Sales Productivity?
Effective sales performance can be thought of as part art and part science. If you want to improve sales productivity, it first depends on how well you understand your customer's needs, speak their language, and close the deal.
People are different and the evaluation process can be emotional or complex, so purchase decisions can seem unpredictable. The skill of understanding what factors are part of the decision processes might be considered an art, including what emotions and egos are involved and the ultimate problem that needs to be solved.
Of course, practice will improve performance. The science lies in what must be done once this important intelligence is collected, to close the deal. How do you improve sales productivity? By embracing a strategy of continuous process improvement.
First, the task of how to improve sales productivity depends in part on who you are – are you a sales manager, or an individual contributor?
Managers must enable others to outperform, so can better impact overall sales performance in a leadership or coaching role. Individual contributors need to be close to the sales cycle, recognize opportunities for improvement, and then execute upon those process improvements. Regardless your role, the concept of process improvement can be applied to achieve success.
First, let's see what researchers say about overall sales productivity. KnowledgeTree put together a list of interesting stats:
2/3 of sales reps fail to reach their annual sales quota goal (Aberdeen)
Most sales reps spend more than 50 full days away from core selling activities each year (Domo)
80% of sales occur between the 2nd and 5th call, but only 20% of sales reps even make it to a 3rd call (Thunderhead)
The average sales rep needs to update over 300 CRM records per week (Implisit)
Sales reps receive almost 600 emails per week on average (The Brevet Group)
These stats reveal some interesting trends. Working harder doesn't necessarily improve performance. Persistence is key, but only with the right contacts. And, in a world where a sales professional can receive hundreds of emails a week, a process is needed to help work smarter. This process starts with education.
Formalize an Onboarding / Training Program
This is a concept that is seldom argued, but often easier said than done. Of course, everyone knows you need to train a new employee before they can be productive. But how effective is your program? And, what training exists for members of the sales team that are one, two or five years with the company?
A crash course for two days involving 10 hour days of competitive review, product knowledge and CRM system training might not be as long-lasting as hoped, leading to reduced productivity.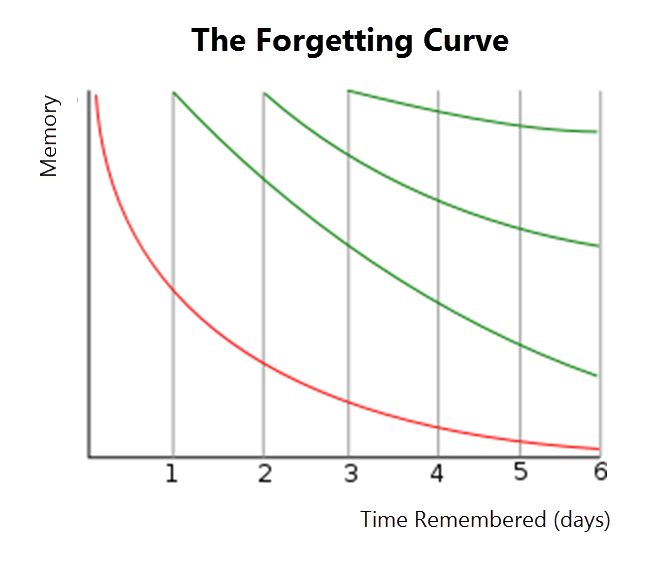 This concept is illustrated well with the diagram above, referred to as the "Forgetting Curve" (source). Simply stated, over time memory retention declines. The curves included in the graph at right suggest that people tend to halve their memory of newly learned knowledge in a matter of days or weeks unless they consciously review the learned material.
The repeated curves indicate exposure to the concept for a second, third, etc. time. Herein lies the secret to effective learning – repetition. Improve content and process retention, and you will improve effectiveness of your sales training, leading to higher sales productivity.
This training should also be expanded to your seasoned veterans. The "tribal knowledge" this group of employees has is very valuable – it makes sense to tap into it, share with others, and use it to increase overall sales productivity, leading to my second recommendation.
Identify a Baseline for Process Improvement
You can't improve what you don't measure. So, be sure you have a measurement program in place, which extends to more than simply measuring quota attainment. Invest in the tools to understand what activities are being performed that can then be correlated with superior sales performance. Data collected in context leads to intelligence that can then be shared to elevate overall sales productivity.
Everyone can establish baselines for process improvement, however, it will be more likely that this strategy is executed upon if done by sales management. As part of the role of providing leadership and coaching, sales managers are in a better position to lead by example and encourage engaging in process improvement to achieve greater team results.
Several applications exist, such as those provided by Prodoscore, that can deliver the necessary visibility to understand how time is spent, what activities led to sales success. Regardless how this data is collected, if it can be quantified and then shared, the result will be improved sales productivity.
Drive Consistent Process Participation
All the research in the world won't deliver any benefits if process improvement is not executed upon. We all quickly fall into a routine when living our lives and performing our job duties.
It can often be difficult to embrace a change and then stick with it. For this reason, it is necessary to have visibility that new processes are implemented. This can be achieved with process automation tools as well as playing an active role in monitoring team activities and performance.
In the advertising world, research shows that prospective buyers need to hear messages seven times before they will recall it! Based on this data, sales training and process improvement must be communicated several times before it becomes part of a new routine. Speaking from someone who has a few years under his belt, I will attest this repetition requirement only becomes more pronounced as you get older.
Get Social
In today's world of always on communications and two billion people on Facebook, once simply can't expect to do anything without thinking about the way that social activities will impact that activity. Sales process improvement is no different.
Think about what are the most important metrics that correlate with higher sales productivity, and then about how to share these metrics with your team. Everyone wants to be recognized for their performance, especially when it means that activity can help with the team's overall goal for sales orders closed in a quarter or at year end.
With ready access to sales performance metrics, it becomes easier to share achievement across a team to share success and help coach performance improvement.
The key is gaining access to the right metrics, having them be simple to understand and for the measurement to be consistently applied. When you can achieve each of these criterion, then go "social" with it and share. The digital sharing world is now upon us. Embrace it and find ways to tap into this behavior pattern, and you might be surprised how it can impact sales productivity!
How will visibility impact your business?