Preparing to Gain Advantage During an Economic Downturn
There's a dark, spooky cloud forming over the head of the world economy: experts agree that a downturn is looming, if not a full-blown recession. The globe and its various economies are more connected than ever before. This is both a blessing and a curse as we currently face what some researchers are calling a multitude of critical risks.
Overall, the economy is in a precarious position. In their most recent Global Economic Prospects Report, The World Bank admitted that "the global economy has slowed to its lowest pace in three years." And contrary to popular belief, those numbers aren't simply because of developing countries affecting statistics. In fact, reports reveal that "growth in the emerging and developing world is expected to pick up next year," while intensifying disputes between the world's largest economies are a major risk factor.
If vs. When
Considering everything going on in the world, it's easy to fall into stoic despair like the dog sipping his coffee in KC Green's infamous webcomic. "This is fine," we insist, surrounded by the flames of a global economy in distress. But recently, most economists have come to the conclusion that things are, well, not fine. It is no longer a question of if there will be an economic downturn, but rather when.
In a survey of U.S. CFOs, Bloomberg discovered 49% expect a downturn by the end of this year, while 82% expect it will strike by the end of 2020. World Bank reports that global business confidence has been steadily on the decline for the past year and a half, as executives and constituents alike face ballooning debt, poorly distributed resources, and increasing global tensions.
The good news is, that among all the predictions, there is time to prepare. We don't have to merely sip our coffee and watch the economy burn. Some have even suggested that now is the time to take action so that in an economic downturn, your company could actually gain an advantage.
Harvard Business Review looked to research of resilient companies, those that actually managed to thrive during the last economic downturn. They found some common characteristics that serve as a cautionary tale for those preparing to weather the next economic storm.
Stay the Course
Downturns, or even the threat of a downturn, can incite subtle panic. Companies begin to scramble for resources, cutting costs hither and yon just to accumulate profit that will, unfortunately, only cushion them for the short term.
Resilient companies don't lose sight of their long term goals when a crisis is on the horizon, but instead, stay proactive and focused. World Bank warns that there is a need for "growth-enhancing projects" to sustain the economy, rather than a quick fix.
HBR found that resilient companies lost just as much during a recession as their less resilient peers, but improved their earnings early enough in the recession cycle that their total shareholder return recovered quicker.
So, don't panic and look for a quick fix when things get dark. Revisit your long-term goals, recommit to them, and stay the course. The first step to surviving a downturn is making sure you have a healthy, growing business in the first place.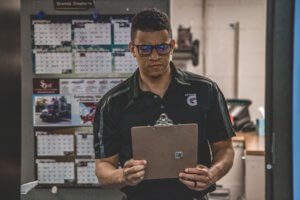 Don't Abandon Tech Advancements
Experts overwhelmingly agree that gaining advantage during a downturn requires "technological competitiveness." When times get tough, some technologies may seem like luxuries that could be sacrificed. You may think it's frugal to put off upgrades until the price tags mellow out when actually that kind of penny-pinching will probably put you at a further disadvantage.
Martin Reeves of Boston Consulting Group explains that technological changes are already "causing competitive positions to become more fragile," and during a downturn, the competitive volatility will spike even further. He adds that "technological progress will not stop during a downturn," so companies simply cannot afford to "put their digital change agendas on hold."
For example, moving to cloud technologies and investing in better monitoring and tracking of productivity can see returns even when the economy is in a delicate place through employee retention.
A Note On Cutting Costs
In times like these, it's tempting to cut costs wherever you can. However, resilient companies don't actually respond to risk by rapidly slashing budgets wherever they can. Currently, our world is facing a wide host of systemic issues that are inevitably affected when any company rushes to cut costs.
Crises like income inequality, real-estate values, and sustainability are directly affected by corporate decision-making. And as employee activism has increased in recent years, it's more important than ever to consider the socioeconomic implications of corporate decisions.   
Collaborate for Sustainable Change
That being said, it's predicted that the impending downturn may "inflame social tensions and reduce governments' ability to act on such issues." So, thriving during a downturn isn't just a financial concern. Martin Reeves thus recommends "collaborating with all stakeholders" in order to "move from discussion to pragmatic action."
Don't Get Spooked
Yes, there is an economic downturn on the horizon. We may not be sure precisely when it will arrive, but economists seem to agree that it's coming soon. Fortunately, since it's still on its way, we have time to make some changes. Be proactive so that your company can cultivate resilience now, and the predicted recession won't feel like quite a punch to the gut.
How will visibility impact your business?