How a Remote Working Maturity Curve Can Assess Competitive Risk
Based on its major impact on jobs and the economy, I propose the remote working revolution should be classified as a megatrend. Given its significance, it is wise to take an "outside in" perspective to assess where your organization is vis-à-vis the competition, to then do a risk assessment to avoid surprises. A great way to accomplish this is to define a Remote Working Maturity Curve, which then can be used to measure where you stand, and what needs to be done to make progress.
What is a Megatrend?
According to Frost & Sullivan, Megatrends are global, sustained and macro-economic forces of development that impact business, economy, society, cultures and personal lives to such a level that they define our future world and its increasing pace of change.
Remote working satisfies these defining attributes. It is a global trend, is now impacting how staffing is done and managed at many businesses today, and is now part of our culture and values, at least with regards to how we define "work."
Mike Elgan, a contributing columnist at Computerworld recently wrote an article challenging his readers that the term "remote working" may soon fade away from our vocabulary. In his words, when everyone is already working remote for at least some of the time, the whole concept of a remote worker no longer really applies. It is just "working."
His article suggests that a significant change in the demographics of our workforce has been one of the factors that is driving this change … and it is tied to that "M" letter word. The Millennials are now a dominant part of our workforce. Just like the baby boomers of the past, and how they defined so much of our popular culture, traditions and attitudes over the past few decades, the Millennials are expected to take over and place their signature on our world – which will be a global trend.
Millennials are Driving Remote Working
When you can reply to email at any time of the day or night – you no longer must be in the office to perform work. With this blurring of lines, we are all working remotely, whether we want to admit it or not!
Further, with the rise of social media, the communications occurring in any given physical space or room is not necessarily with those who are also in that space. You could be posting comments on Facebook that will be read by relatives living halfway around the world – while sitting next to your best friend visiting from out of town. This further reinforces the cultural shift behind remote working. Communications no longer require sharing an immediate vicinity.
Taking these trends to the next level, Millennials are now starting to ask themselves why they need to be in a specific city for a job, especially when those cities come with such a high cost of living.
With increasing competition for the right job candidate, highly sought-after employees are feeling empowered to be bolder with their job requirements. Some are now saying: "Give me a better work environment that includes remote working, or I'll find an employer who will."
This transformation is occurring now. Those employers not paying attention to this change are due for a rude awakening. Others are being proactive and using this as an opportunity to lure new employees and position their firm as one where Millennials wants to work.
Mike's article included some pretty amazing statistics. "A whopping three-quarters of those surveyed (74%) said they would quit their job to work for an organization that allows them to work remotely more often. And 85% said they expect their employers to provide them with the technology that allows them to work from anywhere."
If this isn't a wake-up call to consider remote working options, I am not sure what is!
Remote Working Maturity Curve – a Tool to Plan for Change
A maturity curve can be a helpful assessment tool to evaluate options, perform competitive comparisons and identify next steps. To avoid falling behind what is quickly becoming one of the most significant changes of how work gets done in the 21st century, it might be helpful to have a framework to assess your risk of obsolescence and viability as an employer of choice.
Forrester Research wrote a recent report on the digital transformation that is occurring in our world today. As part of that research, they identified a digital maturity model that can serve as a framework for building our Remote Working Maturity Curve.
For the purposes of this discussion, we will focus on Remote Working, and not consider Teleworking. See this article that defines these terms, and how they differ.
Several factors must be considered when evaluating the viability of Remote Working at an organization. These include those that cover the organization's culture, the technology available and how remote working might impact workflows and the resulting "output" generated by the company. Some examples of questions that must be asked within these categories include:
Must face-to-face interactions be accommodated?
Do data security circumstances exist such that information must be locked down locally?
Do worker safety factors exist during travel to and from work?
Do regulatory constraints limit remote working?
Is a sufficient technology architecture in place to support such a migration?
Do digital communication tools exist, and are they well adopted and standardized?
Are managers empowered to accurately assess worker productivity and job assessment?
Will the culture of the organization support a shift to remote working?
Is management in alignment with this strategy? Is there an executive sponsor?
What might be the resulting impact on customers?
What regulatory compliance issues exist, and how might they vary by country?
Once these questions have been addressed, it is then possible to place your organization somewhere on the below table, as a starting point to evaluate where you are at in your ability to embrace remote working. The resulting maturity descriptions reflect a relative maturity benchmark with which it is possible to assess your remote working adoption rate versus the industry.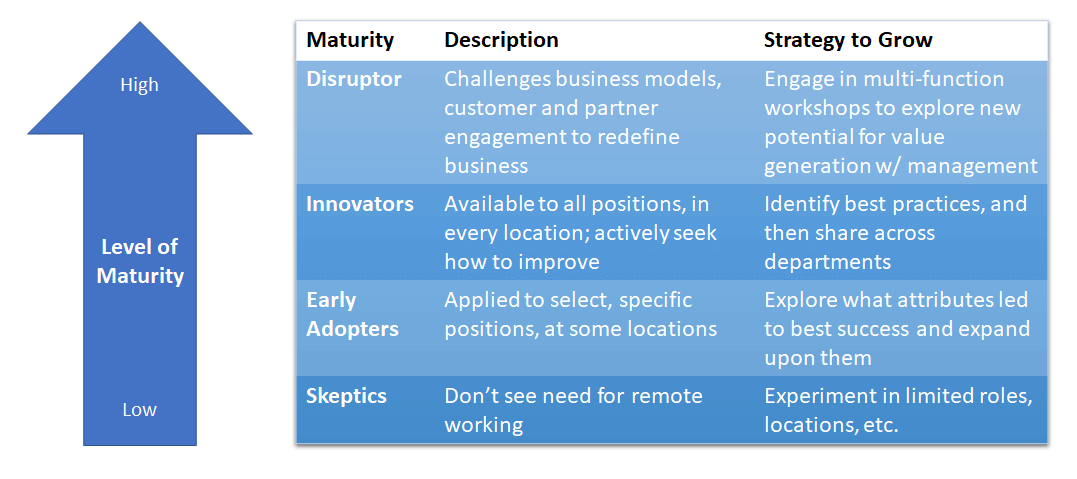 Will the Term "Remote Working" Soon Be Obsolete?
In the words of Heraclitus, an early Greek philosopher, "Change is the only constant in life" (source).
One only needs to look at another transformation in the business world to see a similar change to that of remote working. The term "secretary," which until about 15 years ago was a critical part of an office staff, has since been eliminated. Today "virtual" assistants perform the task of reminding us when we have meetings, sending confirmation of attendance to calls, and responding back to voice mails. Interestingly, the term "secretary" is now considered by some as derogatory or sexist.
Just how the "Secretary" term has been retired, I predict the term "remote working" will soon go by the wayside, as seen as a redundant term not worthy of inclusion in conversation. In an increasingly service-based economy, work will be considered done when the client is satisfied. The success of that completion will have nothing to do with the physical location of where that work was completed.
Until that time comes, I'll keep working remotely as often as possible.
How will visibility impact your business?