Prodoscore takes employee activity spent while working in G Suite business applications (mail, calendar, docs and hangouts), Your CRM, and phone system (dialer, conference calls, and text messages) to build a simple visualization of your productivity.
Based on their level of activity, and our secret sauce, each employee is given a unique Prodoscore (productivity score). Quick analysis of this score, and our machine learning, identifies areas for proactive coaching and increased sales productivity. We also enable remote work for sales teams and provide HR metrics for your business.

We use the cloud to capture data in near real-time and displayed in a way that is easy to see, manage and understand.

Seamless integration with G Suite APIs (mail, calendar, docs and hangouts) ensures deep data collection and the highest level of accuracy.

Consistent measurement across the team provides insight into engagement and accountability for teams, managers, and HR.

Prodoscore is quick to install, so it can deliver sales activity intelligence within hours of implementation.
How Productivity is Calculated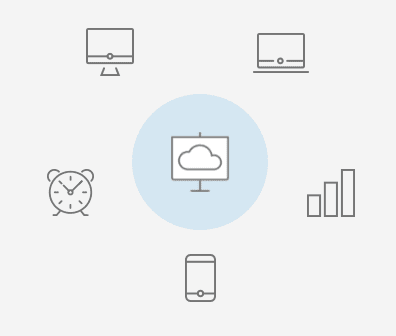 Every activity from time spent sending emails, scheduling meetings or calendar events, creating proposals on doc, interacting on hangout, making calls, sending texts, or updating your CRM is measured.
All our measurements are transformed into a single Prodoscore for each employee based on what you accomplish. Comparing scores and deep diving into activities helps find opportunities for improvements. You can also receive alerts for high risk employees.
Our machine learning engine, Prodoscore Correlations™, automatically surfaces new insights to help you boost productivity and reveal coaching techniques that would have otherwise been missed.
Measure Time Spent in G Suite
Keep a record of time spent on emails, docs, calendar events and hangouts.

Keep your team engaged and accountable.
Your single Prodoscore makes identifying issues and coaching opportunities easy and gives employees a clear goal.
Stop guessing how to help your team and start learning how to make improvements.