Improve Performance & Productivity Trends
Why guess? With visibility into daily activity, leaders can better understand performance and productivity trends over time, using quantitative and qualitative data, to better predict outcomes.
Data Driven Performance Management
Using data to drive decisions around workforce planning, training, coaching, and employee growth allows organizations to provide managers with unbiased insights. Qualified data presents an objective measurement and true viewpoint of employee contributions.
By aggregating data across all cloud business tools and generating a simple score, Prodoscore supplies leadership with a clear understanding of productivity in the form of actionable analytics. This is accomplished with flexible work hours, work locations, and worker designations; full time, part time, contractor, consultant. That data indicates future success and allows leaders to gauge progress regularly, offer guidance where needed, and plan for more predictable outcomes. Employees benefit from these growth metrics with more consistent feedback that drives performance.
Prodoscore outlines how employees work, not just what they produce.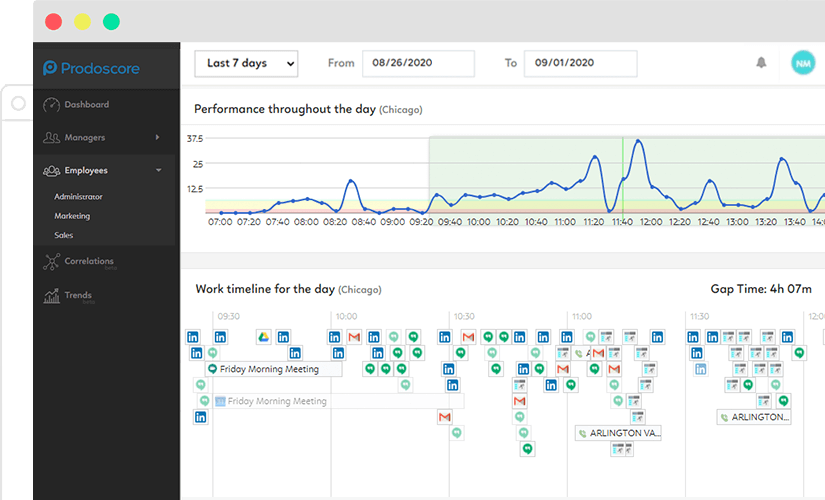 Why Prodoscore?
View & compare employee scores over various periods of time to identify trends and areas for improvement

Encourage healthy competition among employees, when desired

Provide guidance and growth occasion

before

employees miss their performance goals
Create transparency between employees and managers about workload, daily activity and balance

Keep employees engaged by implementing a tool that delivers objectivity and fairness with visibility to individual and team productivity

Find informed ways to work smarter, more efficiently and deliver better outcomes on a daily basis
Combining data with soft skills makes each individual and team stronger when growth opportunities for employees and organizations as a whole are highlighted. Prodoscore delivers this vital information and result without getting in the way of employee efficiency.
What else can Prodoscore do for you?