Streamline the Employee Experience
Dealing with change? We're all facing dramatic and accelerated adjustments to the workplace. An immediate requirement to define opportunities for process improvement and streamline the employee experience is key.
The Requirement for Digital Transformation
The rapid shift to a distributed workforce globally calls for change management at the CXO level. Companies must adapt to thrive and survive in the new future of work, which is now. To expand market position, leadership teams must implement new processes that are not dependent on work hours, locations, or designation (think work-from-anywhere, remote, in-office, or hybrid roles). Flexibility with greater focus on enhanced productivity is now a requirement.
CXOs and cross functional teams have to implement non-invasive technologies for employees that are not disruptive to workflow, and provide knowledge base workers consistent, immediate feedback that encourages high levels of growth and performance.
Prodoscore provides organizations with productivity intelligence for a distributed workforce. Employees are given support, growth opportunity and guidance with freedom to work in a new way while improving individual contributions; and, organizations benefit from higher levels of performance with happier and more engaged employees.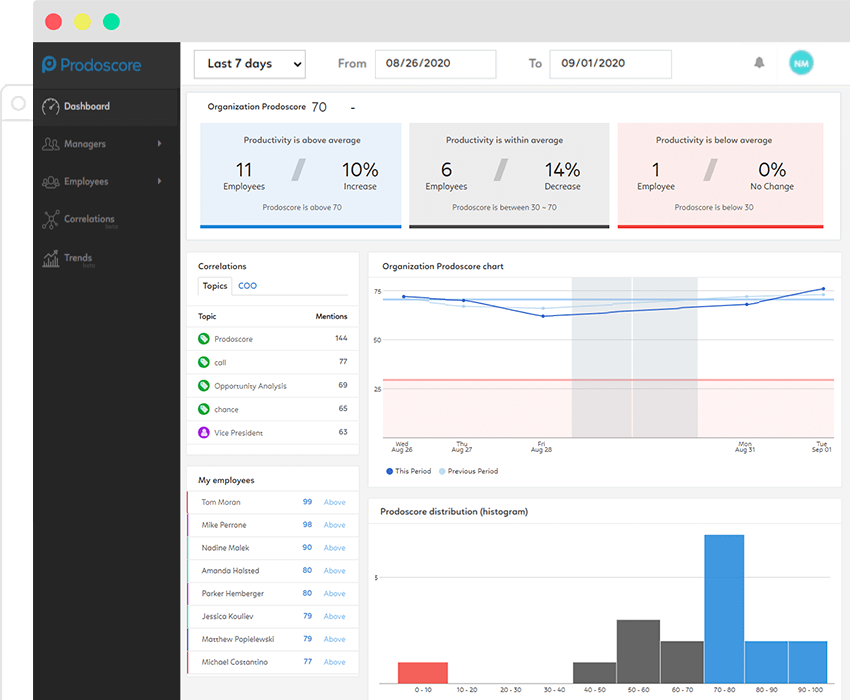 Why Prodoscore?
It's Less About "Digital" and More About Change Management
Whether a workforce is at home, in an office, or in a hybrid work environment, actionable insight into the work being accomplished is vital for success

When widely distributed work-from-anywhere knowledge base employees are not being productive, proactive action is needed to ensure improvements are made immediately
By creating holistic views in one dashboard across all existing cloud based business tools, executives understand what employees are doing throughout the workday

Trust is established, while ensuring accountability through visibility, transparency and growth opportunities
Streamlining the employee experience presents incredible opportunities for organizational improvement, cost savings, improved employee satisfaction and greater productivity. Don't let a lack of visibility into daily activity prevent your organization from attaining great results.
What else can Prodoscore do for you?