Gathering Contextual Data From Core Productivity Tools
The members of your team likely have access to a wide range of tools and apps to enable communication and collaboration, automate processes, and enjoy the freedom to work productively from anywhere on any device. Ensuring that staff use the tools provided and maintaining consistency in utilization can create efficiencies in process, reporting, and performance. 
For that reason, anytime your organization looks to implement another software solution into its arsenal, one of the most important factors to keep in mind is training. In the same way, employees who are new to the team must be trained on expectations for using tools and best practices. The value must be communicated early on to ensure adoption. 
Combining those tools with productivity intelligence isn't just the key to understanding user adoption, but also employee behavior and - of course - overall productivity. 
Productivity Intelligence: The secret to user adoption and good employee coaching
Tools that go misused or unused only serve to slow down your employees and managers, as well as the overall growth of your organization, making everything you do that much more difficult. Adoption of core tools organization-wide can speed up access to critical data and improve productivity. 
Once employees and teams are up to speed on how and why to use the tools you've rolled out, encouraging adoption by gauging usage becomes incredibly important. After all, what good is a tool if you don't understand how it's being used? 
That's where productivity intelligence comes into play. By aggregating data from your core business tools, and providing quantitative, qualitative, and behavioral insights, Prodoscore's productivity intelligence solution presents opportunities for coaching that can improve employee outcomes and support growth. 
Prodoscore: Get the contextual data you need in a transparent, non-invasive way
Prodoscore is a productivity intelligence tool that gives managers visibility into what tools their team is using, without being invasive or disrupting workflow. It runs in the background while your employees work, gathering data about which tools are being used, by who, and when. This can provide valuable data such as who is using an old solution when they should be using a new one, or if employees abandon particular solutions shortly after opening them. It also creates accountability and transparency. 
Prodoscore does not integrate with every solution or app in use by your organization; instead, it intelligently pulls in data from core tools like your productivity suite (including email, calendar, and documents), Unified Communication Solution (UCaaS), CRMs, and other common business applications. In addition to insightful contextual data that presents a broader understanding of employee engagement in general, you can start to visualize trends. Answers to questions like, "On what days and weeks are employees working in certain tools? How frequently are they collaborating throughout a week or month? Which tools make up the largest part of employees' workday" can be quickly answered. 
Integrating to core business tools
Office suites like Google Workspace (formerly G Suite) and Microsoft 365 allow employees to instantly connect, communicate, and collaborate from anywhere, making it possible for workplaces to support distributed working arrangements and enhance productivity. With Prodoscore, managers gain insight into how your employees are making use of those tools so you can identify potential red flags or bottlenecks, pinpoint training opportunities, or reward exceptional performers.
Whether it's an accounting solution like QuickBooks, sales tool like LinkedIn Sales Navigator or Docusign, chat platform like Slack, project management software like monday.com, or applicant tracking software like Indeed, Monster.com, or ZipRecruiter, you can instantly gain productivity intelligence from a wide range of essential tools.
Consider the wide usage of unified communications platforms and the ability to capture contextual data around calls and messages, meetings joined, and so much more. Whether your business relies on RingCentral, Vonage, Dialpad, Microsoft Teams, or any number of other popular unified communications tools, Prodoscore's simple score and dashboard will help redefine the way you communicate, driving growth and improving overall productivity.
Activity in all the business tools you use will round out the productivity scores for each employee, giving you a better sense of how employees spend their time so you can ensure that efforts are being focused in the right areas and important duties don't fall by the wayside. 
In the chart below we mapped adoption of one UCaaS solution after implementing Prodoscore. Adoption increased 303% over 90 days.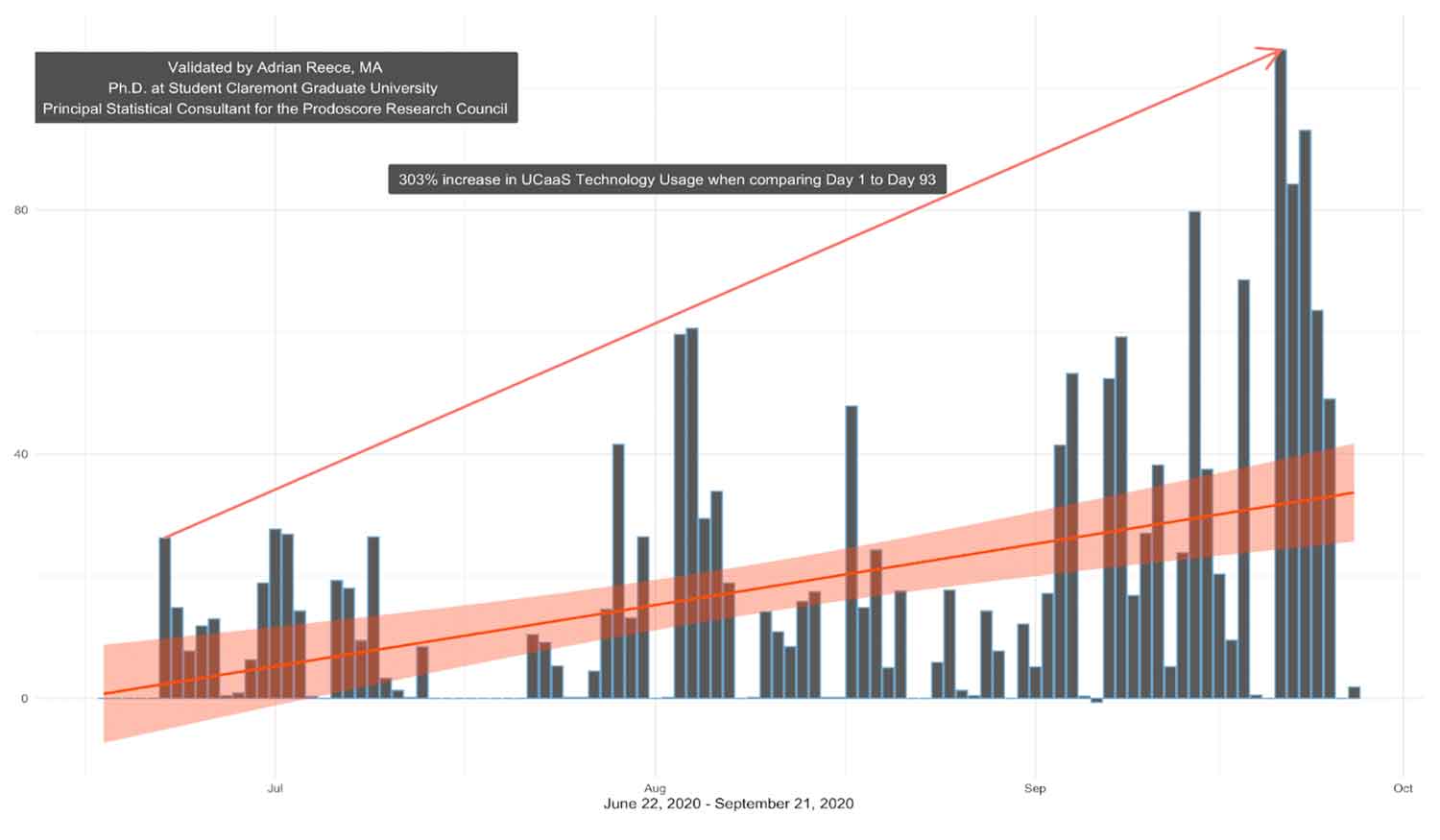 UCaaS usage of 65 organizations and 142,238 data points over a 93-day period
The success of your business technology stack is defined by whether or not your staff are adopting your preferred solutions. With the visibility you get from Prodoscore's contextual and trending data, you can make sure everyone is working with the same tools towards the same goals. Prodoscore connects with dozens of popular workplace tools and apps, helping to create a complete picture of your team's engagement so you can identify emerging opportunities, enhance coaching, improve employee performance, and focus on enhancing your team's productivity to propel your business to new heights.
How will visibility impact your business?