Americans Are Willing to Work Longer Hours to Continue Working from Home
While the Right Perks Can Drive Some Employees Back to the Office, Nearly 25% Won't Go Back Under Any Circumstance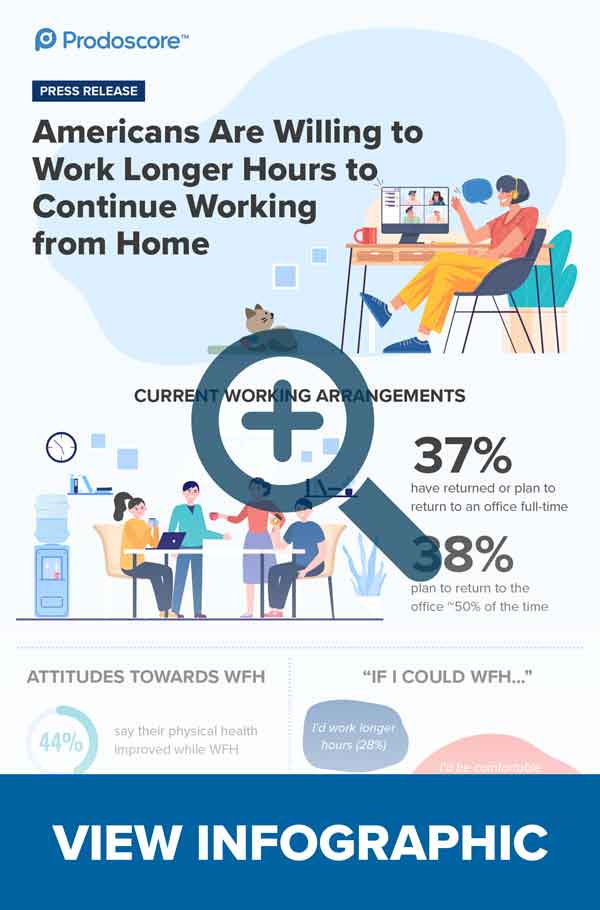 Now that Americans have had a taste of working from home, many are reluctant to go back to the office full-time, according to a new third-party survey from Prodoscore, the leader in employee visibility and productivity intelligence software. The company today announced the results of its research, which assesses employees' attitudes and willingness to return to a pre-pandemic workstyle environment.
While many American business leaders are eager to hit the resume button and have their workplaces go "back to normal," employees are more reluctant. A majority of Americans (75.6%) have returned or are expecting to return to the office full time, but nearly a third are unhappy about doing so. And, as evidenced by the Great Resignation, they are willing to put their job on the line to avoid the prospect: about a third of Americans (27.1%) reported they left their job or plan to rather than work full time in an office.
"The pandemic caused Americans to re-examine long held beliefs about the way we work," said David Powell, President of Prodoscore. "We learned, for example, that we don't have to be on site in a traditional office environment to keep the engine of commerce going. American employees have embraced the flexibility and work-life balance that working remotely delivers, and are looking to hold on to those benefits, even if they return to the office full time."
Adapting to the Changing Workplace 
The pre-pandemic, traditional workplace is no longer the dominant model in the American business environment. More Americans are working for a company that is implementing a hybrid work model (38.3%) than a traditional, full-time model (37.3%). Back in the office, employees are looking to bring elements of work from home with them. More than a third (39.2%) dress more casually in the office.
Employees Are Open to Change in Order to Work From Home
The survey shows that Americans are willing to make changes in exchange for working from home. Nearly 40% said they are comfortable with business leadership having visibility into their workday productivity; more than one-quarter (28.1%) will work longer workday hours; 16.% will take a pay cut; and 13.4% will forfeit company retirement contributions.
Working from Home Fosters a Work-Life Balance
Why the reluctance to go back to the office? Americans don't want to give up the benefits of having work-life balance and the subsequent improvements in their physical and mental health – 43.6% said their physical health and 36.7% said their mental health have been impacted positively since working from home.
Perks Drive Willingness to Return to the Office
Under what circumstances would Americans return willingly to the office? 
A majority of Americans would commit to working 100% in-office if it was a four-day work week, while more than a third would go back if they were given free lunches weekly or commute stipends. Nearly 30% said they would willingly return to the office if they had unlimited PTO. More Americans (19.6%) want a pet-friendly workplace than daycare available in the office or for free (16.3%). 
But nearly a quarter of employees said there were no perks that would encourage them to work in the office full time – and there is absolutely nothing they miss about being in an office.
What Do Employees Miss About Office Life?
The lack of social interaction can't be overlooked when discussing work from home scenarios. The one overriding element that employees miss the most when they're not in the office full-time is their coworkers (48.2%). Spending time with co-workers is also their favorite part about being in an office. Nothing else comes close – not the snacks( 5.4%)  or free lunches (3.5%), not being away from the kids (6.2%),  not having time to talk on the phone or listen to podcasts during the commute (2.8%). 
"A distributed workforce, enabled by technology and productivity tools, is not the future – it is what is happening now," said Powell. "As business leaders we need to get on board with this, to ensure that we are using the available tools to provide the flexibility our employees require and to facilitate  – and then trust in – their ability to deliver at the highest performance levels, no matter where they are physically based. To attract and retain the best talent, this needs to be our charge."
---
About Methodology
In September, Prodoscore and Propeller Insights polled more than 1,000 U.S. adults working full time across demographics about their attitudes and willingness to return to the office full time, following the pandemic lockdown.
About Prodoscore
Prodoscore™ is a company dedicated to empowering teams to be more effective and productive, validated with improved performance and enhanced contributions. By providing visibility into employee activities through a single, easy-to-understand productivity score, a "prodoscore" is calculated to improve workforce productivity and streamline the employee experience. Prodoscore works seamlessly with cloud tools like Google Workspace, Office365, CRM systems, and VoIP calling platforms, allowing it to be quickly implemented and maintained. Learn more at prodoscore.com.
Press Release initially published on Business Wire.