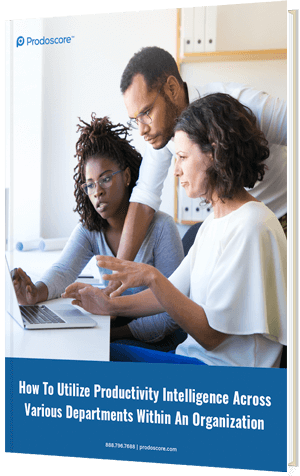 Download Now
The future of work has arrived, and organizations are required to streamline the employee experience. Workforce flexibility must be accommodated with respect to work hours, work locations (from home, in-office, hybrid environment, work from anywhere) and worker designation (full time, part time, contractor, consultant). Organizational agility, once desirable, is now central to business survival. But no matter where teams are located or how employees work, they need to remain engaged in the business in a way that drives success.
Senior executives need actionable information that supports improved performance, growth and sustained contributions to the business, even in the face of change and crisis. Now is the time for productivity intelligence.
With insight into and a clear understanding of productivity, leaders can provide objective, consistent, and immediate feedback that supports knowledge based workers and helps to ensure success. We need to understand what outputs (i.e. activities) actually drive the desired results so we can reinforce them.
If activity is the most accurate measure of employee engagement, then with insight into the activities that make up a day, week, or month, leaders can visualize engagement quickly and make smarter decisions. In this way, productivity intelligence addresses the demand for innovation today, and helps to produce more favorable outcomes.
Let's look at some of those proposed outcomes.