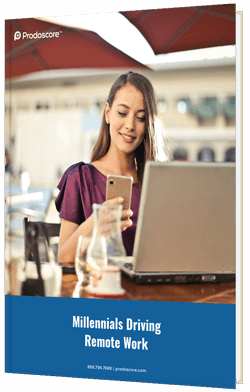 Download Now
In 2016, Millennials became the largest generation of the U.S. workforce. Having steadily come of age during the 2000's, this group today now comprises more than one-in-three American workers (adults ages 18 to 34 in 2015). According to a study from the Pew Research Center, "56 million Millennials…were working or looking for work" as of 2017. That's more than Gen Xers and Baby Boomers.
Communicating with Millennials in the Workforce
Given this demographic now comprises a third of the workforce, it is now mandatory to consider their impact on how business is conducted. What does this mean? To start, it is a good idea to understand how Millennials live, to then best manage this group of unique workers. Here are a few stats to gain clarity on this demographic:
They only know the concept of being available 24 x 7 x 365, with regards to work or play
Social media has always been a part of how they communicate – typically on a smart phone
80% sleep with their phones next to their beds
55% say flexible working is very important
23% of Millennials want an even mix of office / home working
96% of Millennials say the reputation of the company
they work for is important to them
Remote Working Ideal Complement to Millennial Workforce
Given the above insights into how a Millennial lives their life, it should come as no surprise that there is an expectation of being able to work remotely, whenever possible.