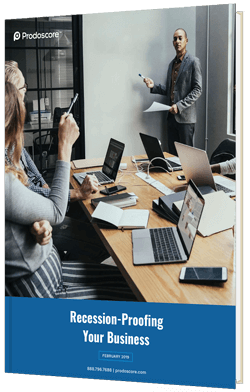 Download Now
There's a dark, spooky cloud forming over the head of the world economy: experts agree that a downturn is looming, if not a full-blown recession. The globe and its various economies are more connected than ever before. This is both a blessing and a curse as we currently face what some researchers are calling a multitude of critical risks.
Overall, the economy is in a precarious position. In their most recent Global Economic Prospects Report, The World Bank admitted that "the global economy has slowed to its lowest pace in three years."
And contrary to popular belief, those numbers aren't simply because of developing countries affecting statistics. In fact, reports reveal that "growth in the emerging and developing world is expected to pick up next year," while intensifying disputes between the world's largest economies are a major risk factor.
If vs. When
Considering everything going on in the world, it's easy to fall into stoic despair like the dog sipping his coffee in KC Green's infamous webcomic. "This is fine," we insist, surrounded by the flames of a global economy in distress. But recently, most economists have come to the conclusion that things are, well, not fine. It is no longer a question of if there will be an economic downturn, but rather when.