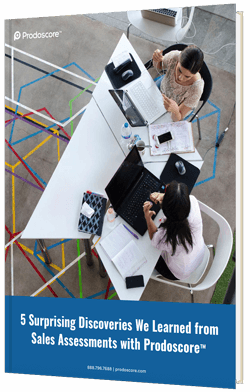 Download Now
Prodoscore has conducted many sales assessments for companies across the globe. The goal is always to gain better perspective on how sales teams operate. The knowledge gained has helped leadership teams improve employee productivity and efficiency, and better understand engagement overall.
Here are some of the things we learned:
Business Owners Work Harder
CRM & Business Phone Systems are Not Being Used Effectively
Salespeople Are Frequently Off Message
There Is A Lot Of "Dead Activity" During The Day
Some Gaming of Business Reporting Systems Exists
As a general observation, we found that every company that participated in an assessment ALWAYS learned something new. Sometimes that revelation was further clarification on what activities were being performed or how time was spent. But most of the time, a "new" truth was revealed, which was best described by numerous participants as an "eyeopening" experience.
Business Owners Work Harder!
While this is a conclusion you would expect, what was interesting and quite revealing is how pronounced this behavior was. And, how consistently it occurred. The work ethic of a business owner at one compared to that of other employees at the company had almost a 20% improvement in productivity. Owners really do work harder, put in more time, and are a big driving force as to the level of success a business achieves. As a takeaway, if you can find a way to work with a business owner – do it!