Top 8 Handy Tools for Managing Remote Teams
While working from home isn't a new concept, working from home temporarily and for an unknown amount of time may present some new challenges for employees.   
The present state of COVID-19 is leading many businesses to allow their staff to work from home if possible. The likes of Amazon, Twitter, LinkedIn, and enterprises all the way down to SMBs have adopted this strategy, and a substantial majority of the workforce is now required to learn how to  work remotely.
Whether you're one of the many people working remotely for the first time or it's the first time you're remote full-time, you may be realizing it's not as straightforward as you would have thought.
Let's dig into some useful remote team tools that will simplify the process of managing a remote team, keep remote teams productive, and encourage professional growth.
Basecamp is a project management software that ensures smooth team coordination. The platform helps you manage projects and interact meaningfully with clients via its simple features, sleek interface, and elegant design. It provides a variety of apps and tools to exchange information, coordinate discussions, and keep teams on the same page.
Basecamp is a popular option among administrators, teams, freelancers, and agencies.
Slack is a popular communication platform that lets teams connect, encourages them to exchange thoughts, and enables message posting in real-time to boost communication. 
Teams often use Slack channels for instant messaging and communication while employees are away, keeping the whole team in contact regardless of location, and making it a lot easier to handle remote workers. 
Slack also provides entirely native iOS and Android applications to give you full capabilities.
Google Drive is a cloud storage network built to store all your data in one consolidated and secure location. Remote staff can store anything from notes, spreadsheets, and slide presentations, and exchange them easily. 
Team can collaborate on files and docs to work efficiently and save time.  In fact, Google Drive files can be synced through computers then downloaded and accessed from anywhere.
HubStaff will make you more productive and efficient. It keeps track of where workers are spending their time at any given moment and what projects they are focused on. 
Its eye-catching apps include electronic time sheets, personnel scheduling, screen logging, workforce reporting, payroll applications, GPS tracking, automated invoicing, project budgeting, and many more.
Remote feedback is as relevant when collaborating with virtual teams as is teamwork. Feedback is what helps teams evolve as professionals.
A good manager should look after the satisfaction of his or her staff. Chimp or Champ helps administrators to easily and better communicate with their staff. It's a weekly confidential workplace satisfaction meter for team check-ins that can boost the well-being of workers and generate better results. 
Zoom is a social messaging device with a beautiful picture rate. It's easy to use, and pricing is very competitive and transparent. 
Any call with a full-length recording can be captured during remote Meetings & Video Chat. Live webinar, seminars, Zoom space, company IM and voice sharing are other Zoom solutions. Check it out to understand why it's become one of the most popular remote team applications out there.
Instagantt is a versatile project management program that can help you organize, track, and schedule your tasks visually. 
The software allows you to streamline the entire GANTT process and collaborate with members of your team, making it a great match for remote work.
Instagantt also comes with plenty of helpful features such as the ability to build assignments and sub-tasks, models for specific project styles, instructions, deadlines, alerts, baselines, vital paths and automated project scheduling.
Above all, one of the most important areas of focus for management is visibility into productivity.  But, how do you know what team members are up to when they are working remotely? 
Well, Prodoscore is the best tool for evaluating performance.  It provides visibility into the daily activities of your remote workforce, so you can gain confidence and ultimately build trust.
How? Prodoscore measures employee activity across all of your cloud business tools and presents a simple visualization of productivity with a simple score.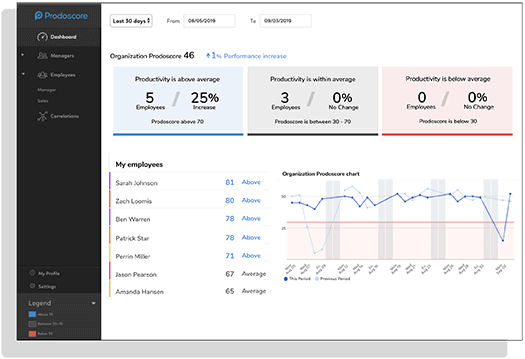 The tool also surfaces new insights to help you boost productivity and reveal coaching techniques that may have otherwise been missed.
Conclusion
With so many tools available for remote teams, employees working remotely can be productive and satisfied.  We wish you luck adapting to the 'new normal' and we're here to help. 
How will visibility impact your business?