IT DOESN'T MATTER Where Your Team Works When
You Have the Visibility
There is a perception that remote workers won't be as productive as in-office workers. But, providing a remote work option actually makes your team more productive, attracts and retains top talent and opens up hiring in cost-effective regions.
Prodoscore's daily reports can keep sales leadership informed of sales activities and trust that work is being done at the expected pace. We have the cloud technology tools to see the data, so it doesn't really matter where they are working, in the office, remote, or anywhere.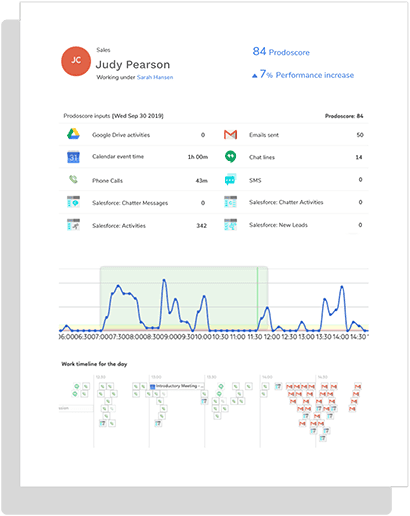 This Prodoscore view shows a sales professionals day. Can you tell if this rep is an office or a remote worker?
The point is you cannot. With Prodoscore you have the same visibility into an office employee and remote employee. So why not take advantage of these benefits you get with a remote sales workforce.
– Reduce Office Expense
– Higher Productivity – No Commute etc.
– Retain Employees w/ Work From Home Policy
– Cost-effective region hiring
GET FREE DEMO
How Our Score Can Help Sales Leadership?
You can't improve what you don't measure.
Improve how you visualize sales activity today to
maximize your sales output tomorrow!