CLOUD TOOLS are Only As Good As Their Adoption
Organizations often heavily invest in a piece of software, and want to see that it's being used and they're receiving the full ROI. But, employees frequently struggle with adopting new systems and workflows and prefer to work in the way they're comfortable even when the new software will be better for them and the organization long-term.
Prodoscore can fix that. It forces the employee to use that software because usage or lack there of, effects that employees score. It tracks activity in the applications that are essential for your sales teams and measures your software adoption with tools such as, G Suite, Microsoft O365, Salesforce, Phone System, and more.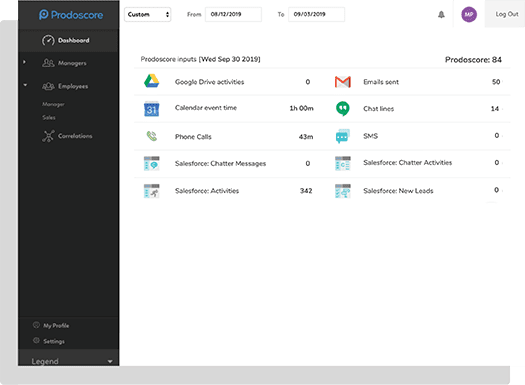 In this Prodoscore view you can see the number of activities that were completed by this sales professional in a given day. By making time spent in key software apps a cornerstone of the productivity score, Prodoscore encourages employees to adopt the desired software and workflows in order to boost their daily scores.
Instead of missing a lack of adoption until you check-in, you can hold employees accountable for making the switch and reward high adoption rates. No more software collecting digital dust.
GET FREE DEMO
How Our Score Can Help Sales Leadership?
You can't improve what you don't measure.
Improve how you visualize sales activity today to
maximize your sales output tomorrow!