DON'T LEAD BLIND
Typically top performers generate a majority of a sales organizations results. Research correlates this to the 80/20 rule, also known as the Pareto Principle, 80% of sales are made by 20% of sales reps. It can feel impossible for underperforming reps to crawl out from under, but now you have a true recipe to coach and train to clone top sales performers actions.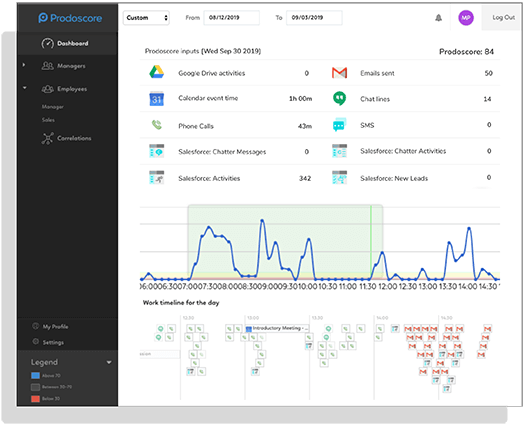 This Prodoscore view shows the specific activities a top sales professional does on a daily basis.
When coaching sales professionals you can now show what activities will lead to a larger opportunity pipeline and close rates vs. trying to coach to the end result. If you can get the sales professional to replicate the activity of your top performers, and with proper coaching, you should be able to increase opportunity pipeline, which in turn will help the lower performers achieve increased revenue production.
GET FREE DEMO
How Our Score Can Help Sales Leadership?
You can't improve what you don't measure.
Improve how you visualize sales activity today to
maximize your sales output tomorrow!